What are we in Christ saved from, ultimately? Of course, we are saved from sin. But honestly, the thing we are most concerned about is sin's penalty–DEATH, right? There are many wonderful aspects of salvation, but there are not many that are as important to us as the eternality of salvation.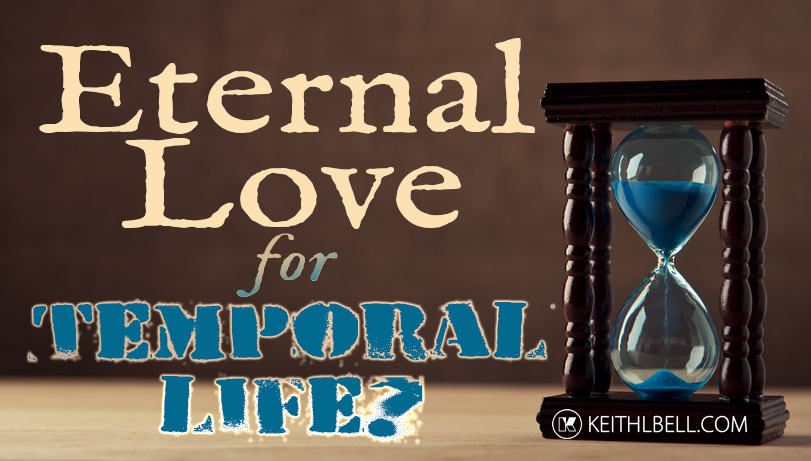 Why? because we know that all must die; but then what?
Death's Destroyer

Because we trust in Christ, we are guaranteed eternal life. So the thing that we are saved from ultimately is eternal death. It was the first warning God ever gave humanity when He said, "of the tree of the knowledge of good and evil you shall not eat, for in the day that you eat of it you shall surely die" (Gen. 2:17).
In the end, Death will be the last enemy Christ conquers: "He must reign until He has put all His enemies under His feet.  The last enemy to be destroyed is death" (1 Cor. 15:25-26). That is why Paul boasted about the great victory we all have in Christ when he said, "O death, where is your sting. O grave, where is your victory?" (v. 55).
Because of what Christ did on the cross on our behalf, we are permanently saved from an eternity separated from God in utter torment; which Scripture refers to as "the second death" (Rev. 2:11; 20:6, 14; 21:8).
The Lord of Life

There was a point in Jesus' earthly ministry when the Sadducees came to Him trying to trip Him up with questions about the resurrection. They deeply believed that resurrection was sheer nonsense. Jesus responded to their foolish questions by saying, "You are wrong because you know neither the Scriptures nor the power of God" (Mt. 22:29).
He went on to tell them that…
As for the resurrection of the dead, have you not read what was said to you by God: 'I am the God of Abraham, and the God of Isaac, and the God of Jacob'? He is the God, not of the dead, but of the living… (vv. 31-32).
Note that the Lord said, "I AM the God of…", not "I WAS the God of…".  What Christ was signifying is that God's relationship with Abraham, Isaac and Jacob still exists because even though we cannot see them right now, all three of them still live in the presence of the Lord (2 Cor. 5:6).
This is why when Moses and Elijah appeared with Christ on the mount of transfiguration, Scripture didn't say that they were spirits or phantoms, or that the disciples were dreaming or seeing a mere vision. It simply said, "And there appeared to them Elijah with Moses, and they were talking with Jesus" (Mark 9:4).
Generations after Elijah's rapture and Moses' burial by God, we found those two great Prophets conversing with Jesus on that mountain. Why? Because they are not dead! Because "He is the God, not of the dead, but of the living!" That is a powerfully profound statement about our salvation!
His Love Is Everlasting

In Psalm 103:15-16, David says, "As for man, his days are like grass; he flourishes like a flower of the field; for the wind passes over it, and it is gone, and its place knows it no more." David is speaking of the brevity of life and the certainty of physical death for each of us.
But he doesn't stop there. It is often good to ponder the conjunctions like the word "but" in Scripture, because it usually provides a great spiritual truth in contrast to a very important opposing principle.
In verses 17 and 18, David further writes…
But the steadfast love of the Lord is from everlasting to everlasting on those who fear Him, and His righteousness to children's children, to those who keep His covenant and remember to do His commandments.
You see, God does not arbitrarily promise us everlasting love through Christ just to leave us with a temporary life and then expect us to truly enjoy Him each day. It's like a billionaire offering you millions of dollars but only giving you five seconds to spend it all or lose it and whatever you had time to buy with it. Where's the joy and benefit in that?
Not for Temporary Life

Temporary life is the lie which Satan wants us all to believe and live for. He knows that if he can get us to doubt we have eternal life today, then he can also get us to live in sin like there's no tomorrow, and no God. That is why in the garden of Eden he tempted Adam and Eve with the forbidden fruit.
But the Bible clearly tells us that our salvation in Christ is eternally secure because our salvation is, first, God's prerogative: "salvation is of the Lord" (Psa. 37:39). Then, by grace through faith, salvation is our possession: "work out your own salvation…" (Phil 2:12). In other words, if you have salvation in Christ which is sealed in you by the Holy Spirit (Eph. 1:13), then you are commanded to work that salvation outwardly in what you do each day.
This is why Jesus could boldly say that "Truly, truly, I say to you, whoever hears my word and believes him who sent me has eternal life. He does not come into judgment, but has passed from death to life" (Jn. 5:24). And that is why John ends his first epistle with "I have written these things to you who believe on the Son of God, that you may know that you have eternal life" (1 Jn. 5:13). 
And don't forget that Jesus ended his great intercessory prayer to his heavenly Father with these words: "I made known to them Your name, and will make it known, so that the love with which You have loved Me may be in them, and I in them" (Jn. 17:26). And why will the Father honor that prayer? Because His Son asked for it, and "so that in the coming ages he might show the immeasurable riches of his grace in kindness toward us in Christ Jesus" (Eph. 2:7).
Saints, we are saved from an eternity separated from the beauty, majesty, glory, power and presence of our very reason for existence. Someone once said that "Eternity is too long a time to spend with anyone else but God." I fully agree with that statement. I hope you do too!
All who trust in Christ have eternal life because that is the only way they can know everlasting love! HAPPY RESURRECTION!!