When do Christmas lights look their best?  When it is darkest outside, right? Like the reason why diamond sellers display their finest stones on a black velvet background, when Christmas lights are burning brightly in the night, the colors pierce the darkness, producing stunning displays that catch the eye and touch the heart.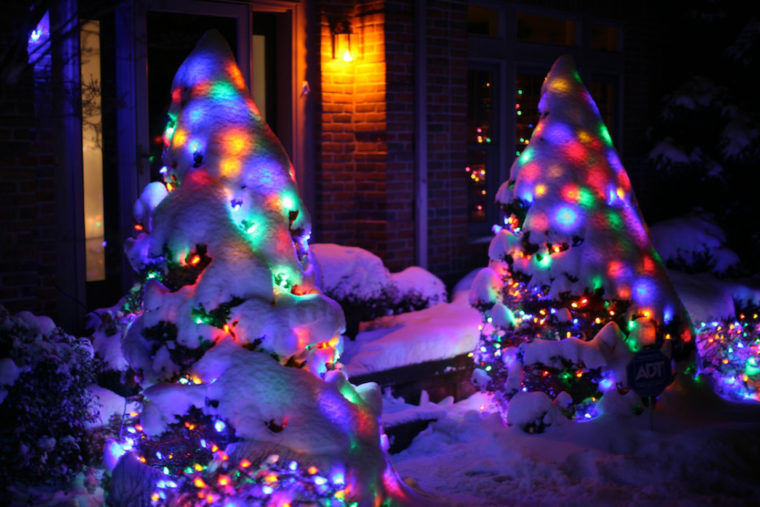 And you know what? Throughout our lives, there will be times we will experience the darkness of disappointment, relationships gone bad, financial reverse, pain, sickness, and a host of other possible trials. When they come—and they will for everyone, saved or not—what will we do to reflect the glory of God?
You see, even unbelievers have the ability to cope with life's troubles. What makes the difference between the unbeliever and the Christian is that the Christian has been fitted with the joy of the Lord, which grants the power to have joy and sorrow at the same time.
Why do you think that there is such exponential growth in the house churches in China and other places where persecution of Christians is legalized? You would think that when they faced such terrific hatred and persecution, they would stop growing.
Or, why is it that when you get a church full of Christians at the funeral of a Christian, it is not a funeral, but a home-going celebration? You see, we know that when children of God die, they immediately enter the presence of the Lord, and though it grieves us to the core to lose them, we know that they TRULY ARE "in a better place".
As saints, we know that death is actually the best thing that could happen to us in this life, because we go to be with Jesus!  And just think… if the worst thing that could happen to us is actually the best thing, then what is it–which doesn't kill us–that we should be so grieved about that we cease to let our lights shine for Jesus?
This season may not be the best for everyone. You may know someone right now who is facing cancer or divorce this Christmas—It may be you. Perhaps you have sinned and brought trouble into your life. Or maybe it is just something the Lord has chosen to allow to happen to you due to nothing at all on your part. And do not forget the fact that Satan is always on the attack. Yet whatever the case may be, Romans 8:28, which I like to call the un-defiable law, is always in effect for the believer…
And we know that all things work together for good to them that love God; to them that are the called according to His purpose.
In a world hostile to the light of Christ, we will face all sorts of reasons to be negative, to complain, and even to give up on serving God altogether. Giving in to them does no good whatsoever, and it is actually an affront to the goodness and love of God which, even in our troubles, is always at work for His glory and our good. So as we approach this Christmas holiday, let us mediate on this passage from Philippians 2:14-15:
Do all things without complaining and disputing, that you may become blameless and harmless, children of God without fault in the midst of a crooked and perverse generation, among whom you shine as lights in the world.
People who don't know our Lord need to see us loving, trusting and rejoicing in Him even when we have every reason not to. This makes our faith more genuine, and it sets us in stark—but oh so beautiful—contrast to the rest of this world of darkness and sin.
Truly, CHRISTmas lights shine best at night!